Paris, Part 1. Exploring the city
Day 1. Thursday
Our red-eye flight landed at CDG with a delay so we rushed to take a train to the city to meet with an Airbnb host who was waiting for us at the apartment. Claude met us with fresh fruits, pastries, cheese, and wine at a very authentic place on Rue Saint-Martin between neighborhoods Les Halles and Le Marais.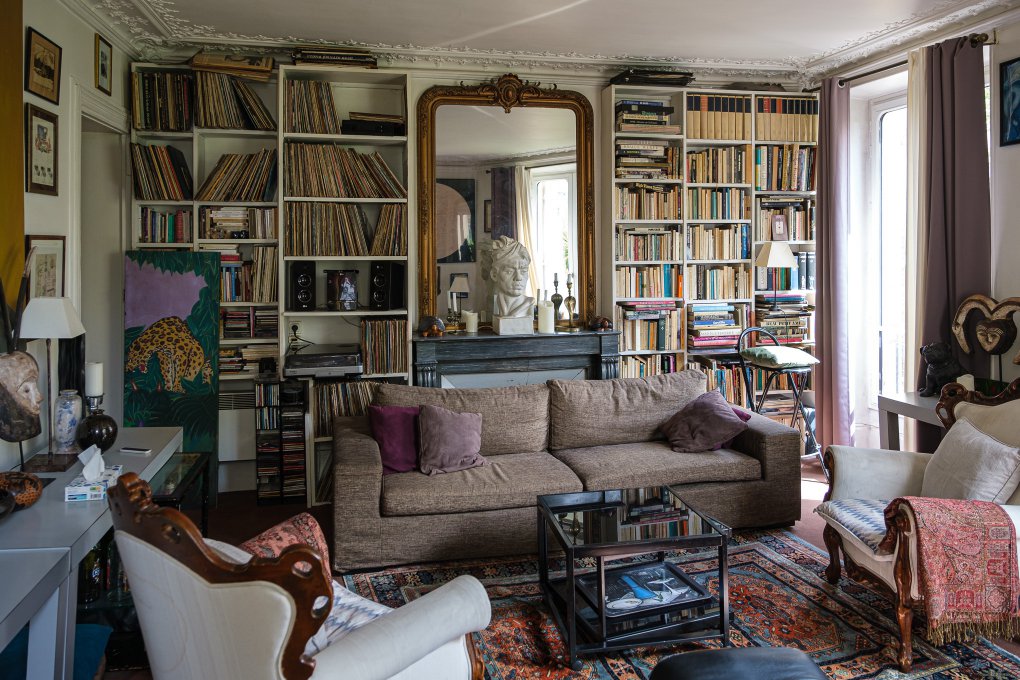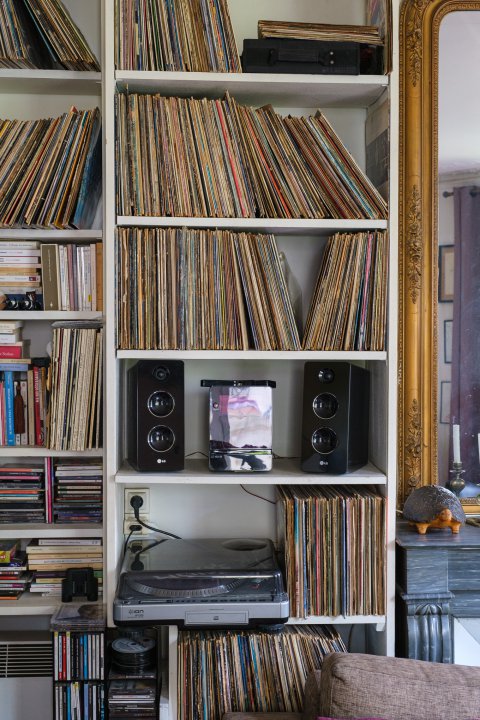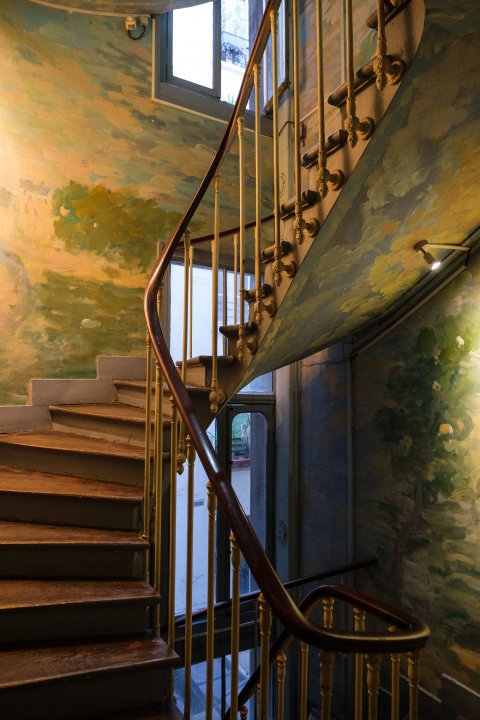 After a very late breakfast, we took a nap, freshened up, and went for a walk around Cité, Latin Quarter, and Le Marais.

So cool to see how the banks of the Seine get converted into beaches every summer. Project Paris Plages started in 2002 and based on the number of people we saw using it can be considered a success.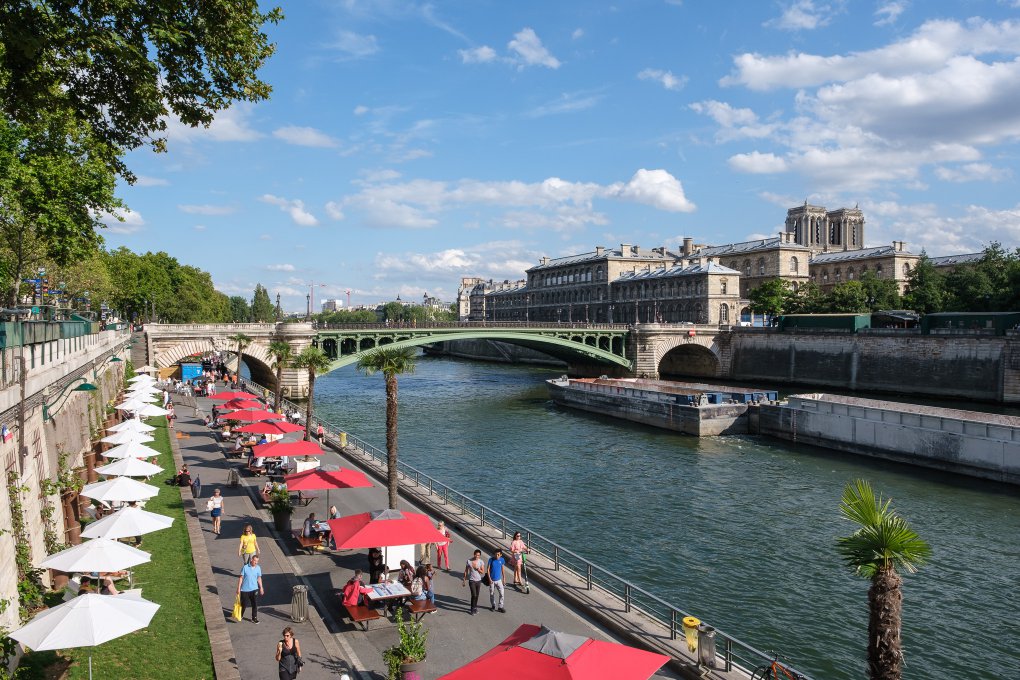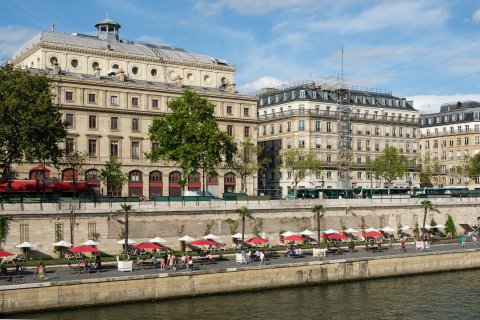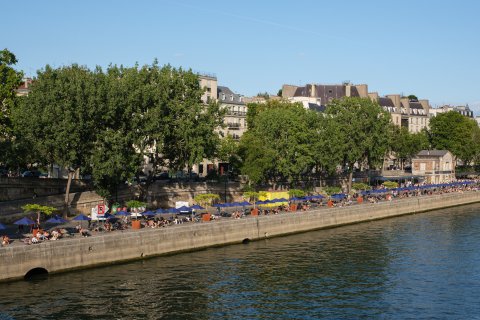 An ongoing renovation of Notre-Dame de Paris after the fire. So sad we missed seeing it in its full glory by mere 4 months, but that loss forced us to take a detour and visit Chartres Cathedral on the last day of our trip.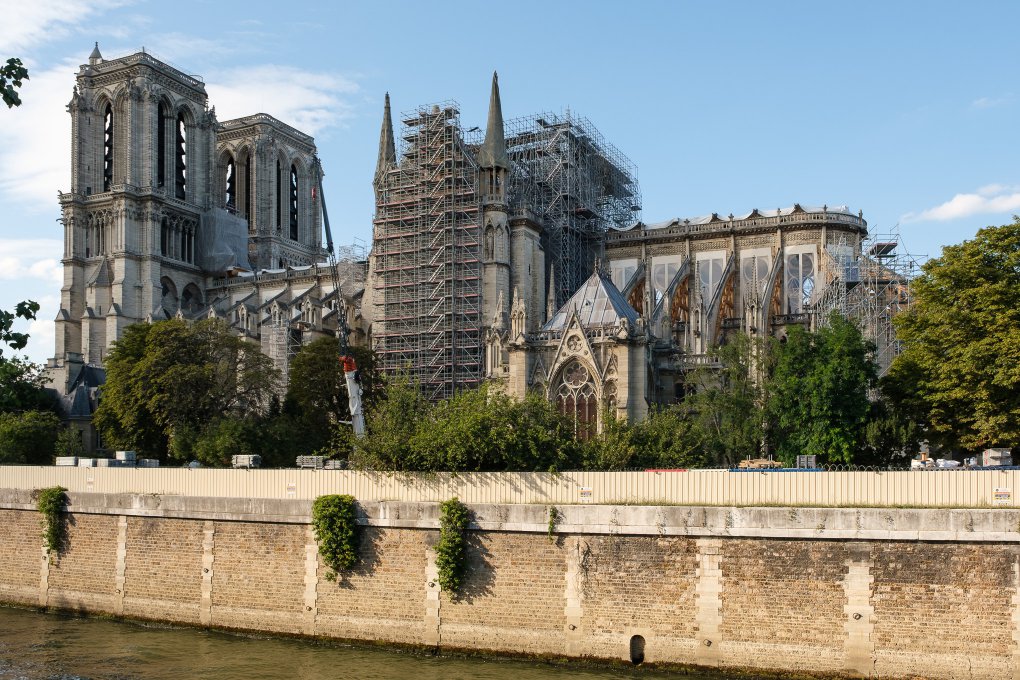 Somewhere in Latin Quarter: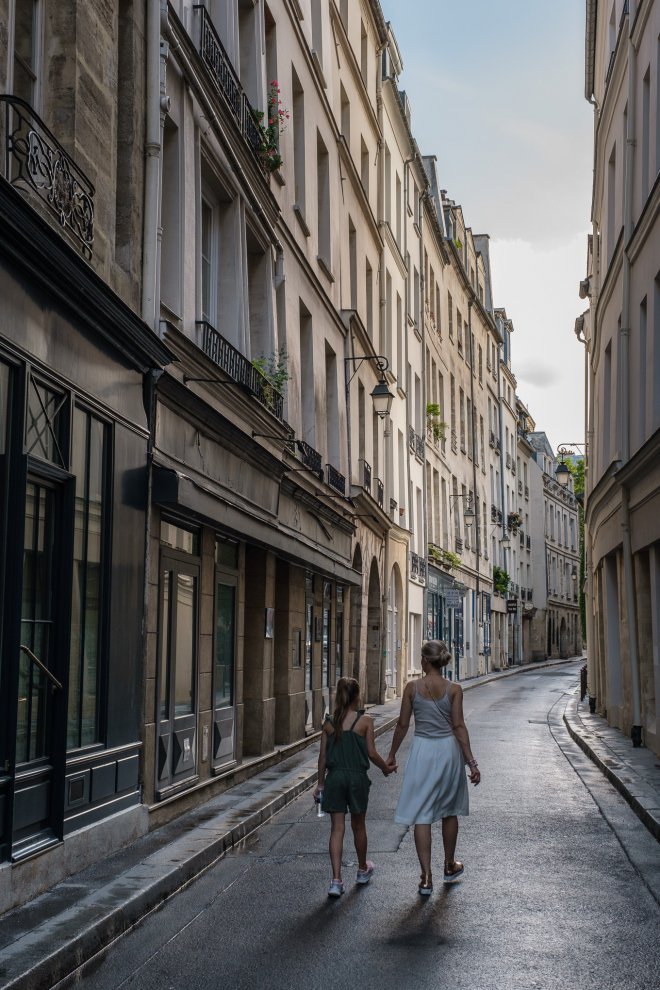 On Cité we wanted to visit a Berthillon ice cream shop, but like many other places in Paris, it's closed during July and August when locals escape the hot city to cooler places. Wish I understood how it makes sense to close an ice cream shop during the hottest months.
Le Marais: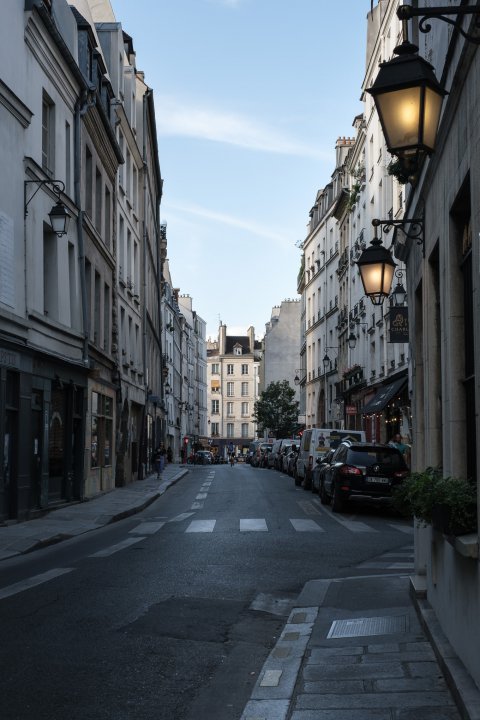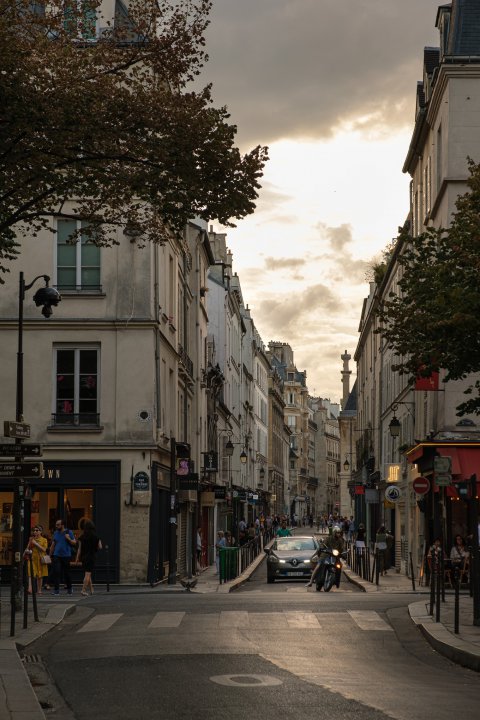 Day 2. Friday
Before our trip I learned about Le Grand Prix de la Baguette — an annual competition to find the best baguette in Paris, where the winner also has the honor of supplying the president of France with his daily bread. One of the laureate bakeries from a few years ago was right across the street from us, so we started every morning with fresh pastries and coffee. Getting a delicious breakfast in 2 minutes is something I can easily get used to.
It was raining in the morning so we decided to spend the day at the Louvre. After walking there and getting to the ticketing line we realized how naive that plan was.
Standing in the line would take hours and wasn't an option. Online tickets were sold out for weeks ahead. I looked at other ways to get tickets from resellers or through guided tours, but nothing was available. We had to accept our defeat and save a visit to Louvre for the future. (Months later, the article "It's Time to Take Down the Mona Lisa" made a strong point that famous painting should be moved out of the Louvre to help with congestion. "Some 80 percent of visitors, according to the Louvre's research, are here for the Mona Lisa — and most of them leave unhappy.")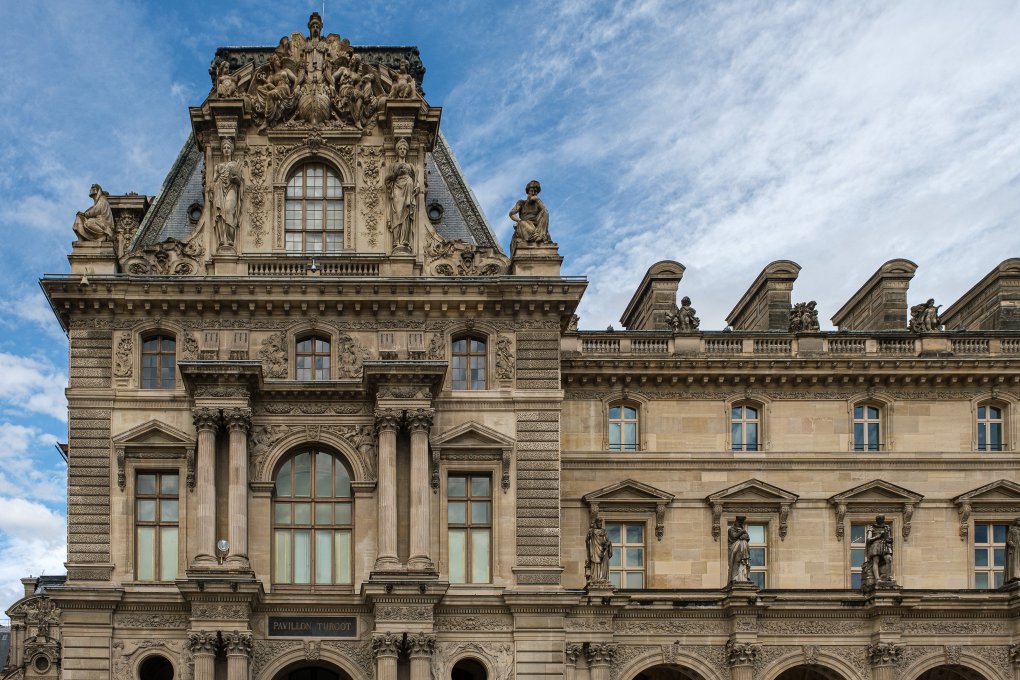 By this time rain stopped, so we decided to walk Champs-Élysées. My wife is a baker so we had to stop at the Ladurée to try their famous macarons.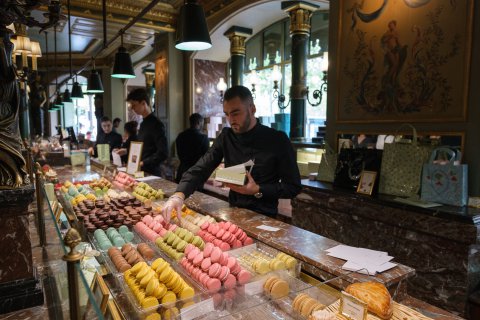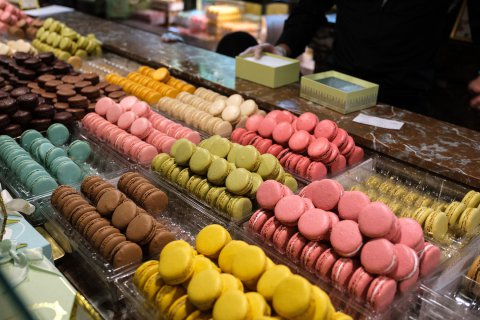 Not sure what was going on on this parking near the Louis Vuitton store.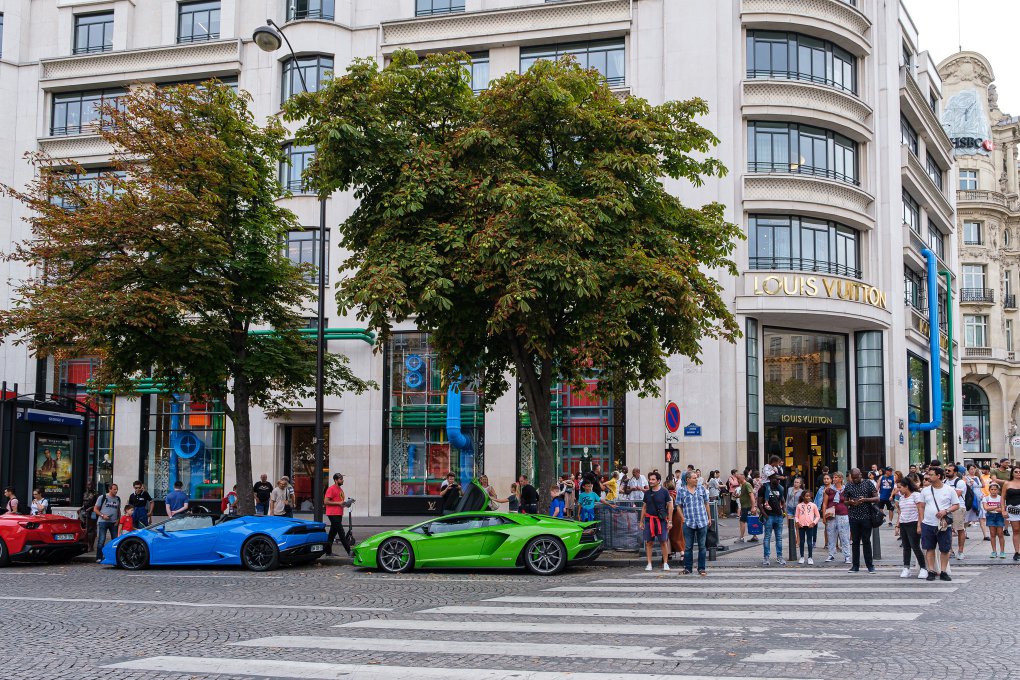 Arc de Triomphe: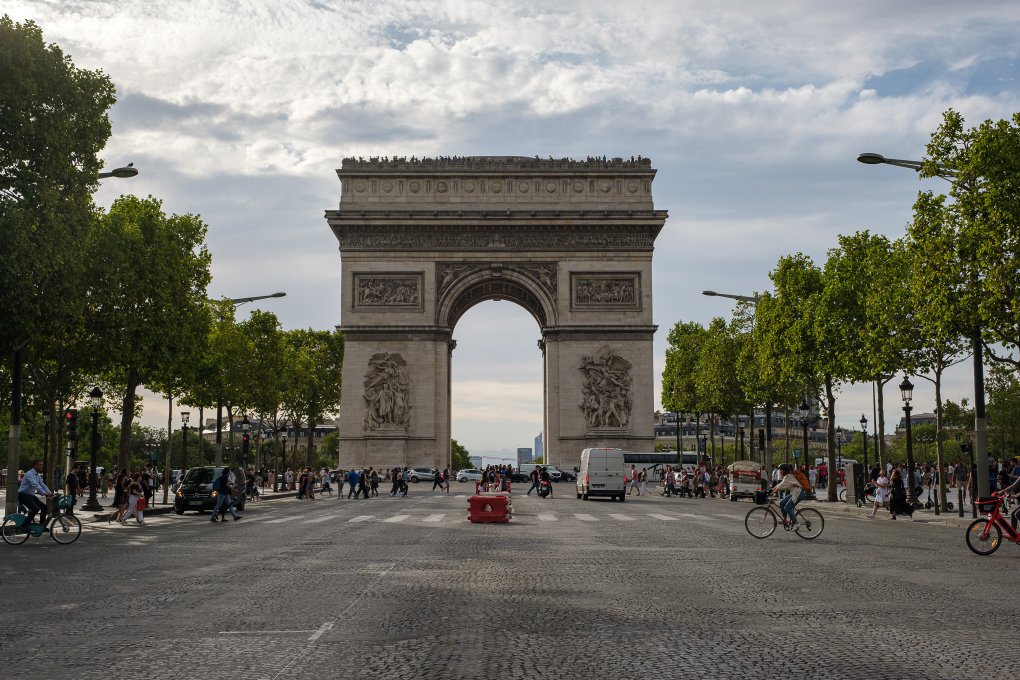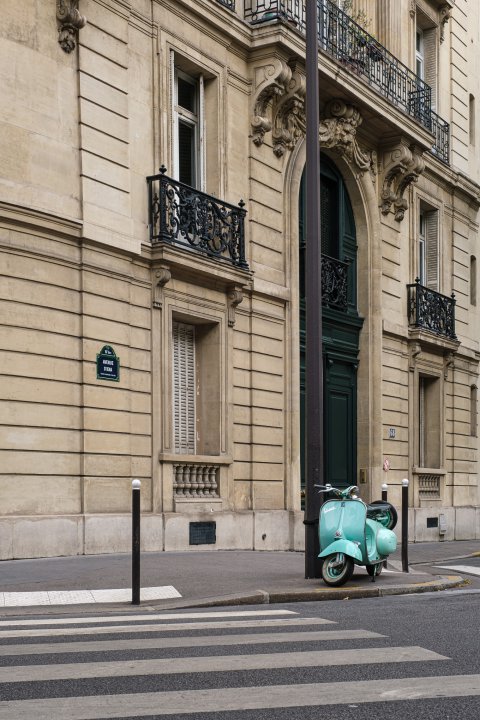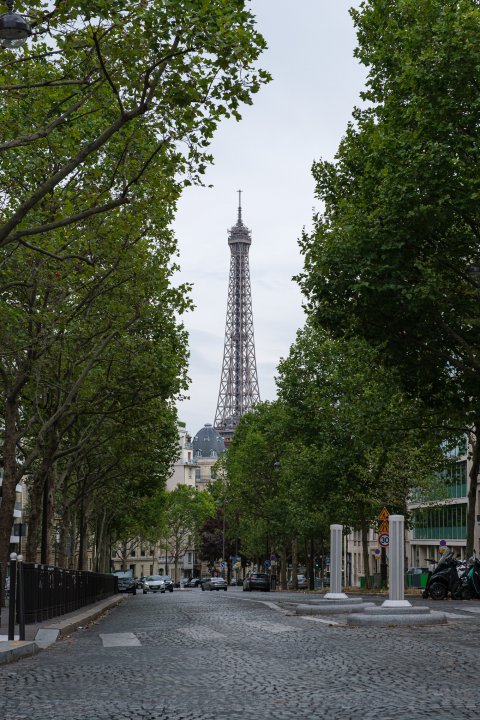 In the end, we got to Trocadéro Gardens with a nice view of the Eiffel Tower.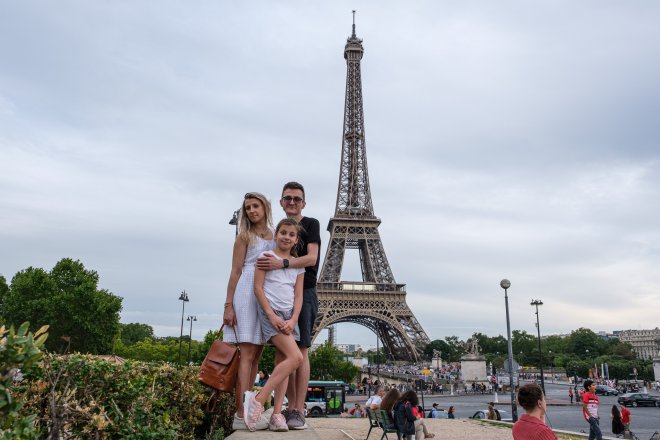 I was taking photos of the girls when the fountain splashed them with cold water head to toe. Now this is one of my favorite shots from the trip: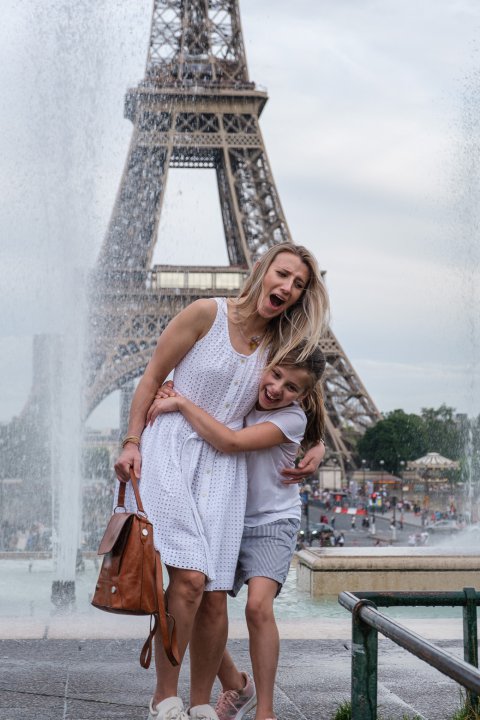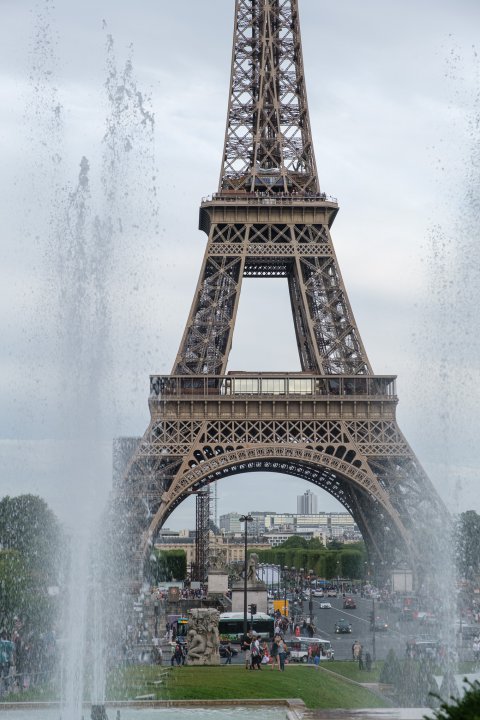 At this point we were pretty tired from our 13 km walk and started looking for a place to get dinner closer to our apartment. Au Rocher de Cancale on Rue Montorgueil is a nondescript restaurant founded in 1804 when this whole street was an oyster market. Amazingly, there was no bragging about this fact whatsoever in the menu or decor, like being in business for 200 years is no big deal. I was born in the USSR — where history was wiped out with hopes of building a better future — so places like this make the Old World very special to me.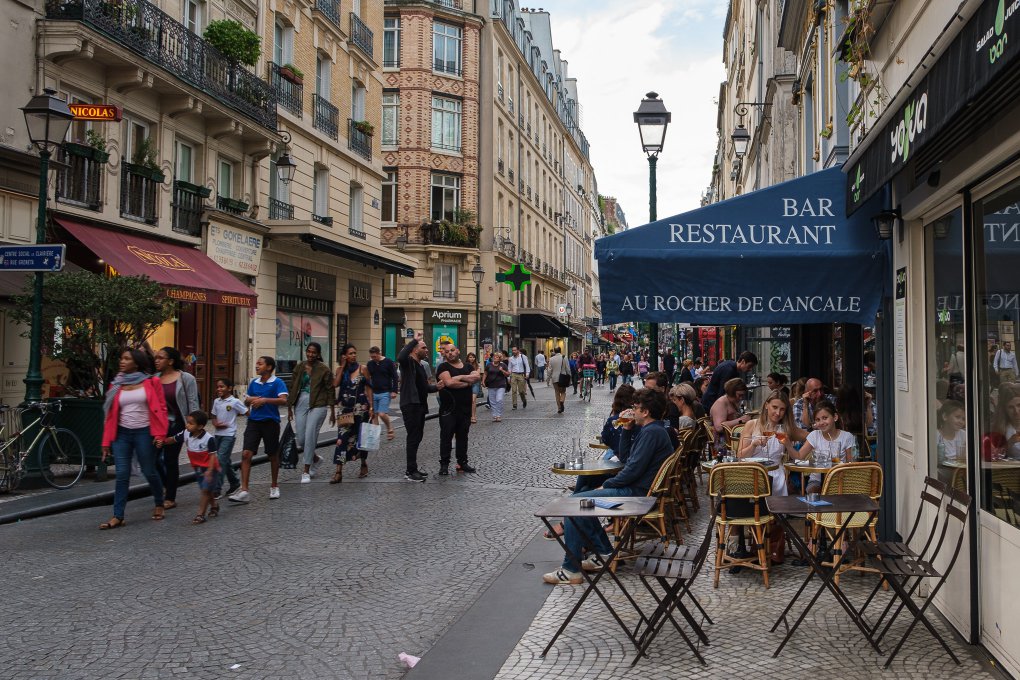 Day 3. Saturday
Our friend had a quick stop in Paris and we decided to get together. We met at Place Dauphine and walked to Café Procope, another restaurant with a long history. I guess it's not possible to operate since 1686 and not to become a tourist attraction, but this place handles it well. Now when I'm hearing about a classy traditional French restaurant I always think about it.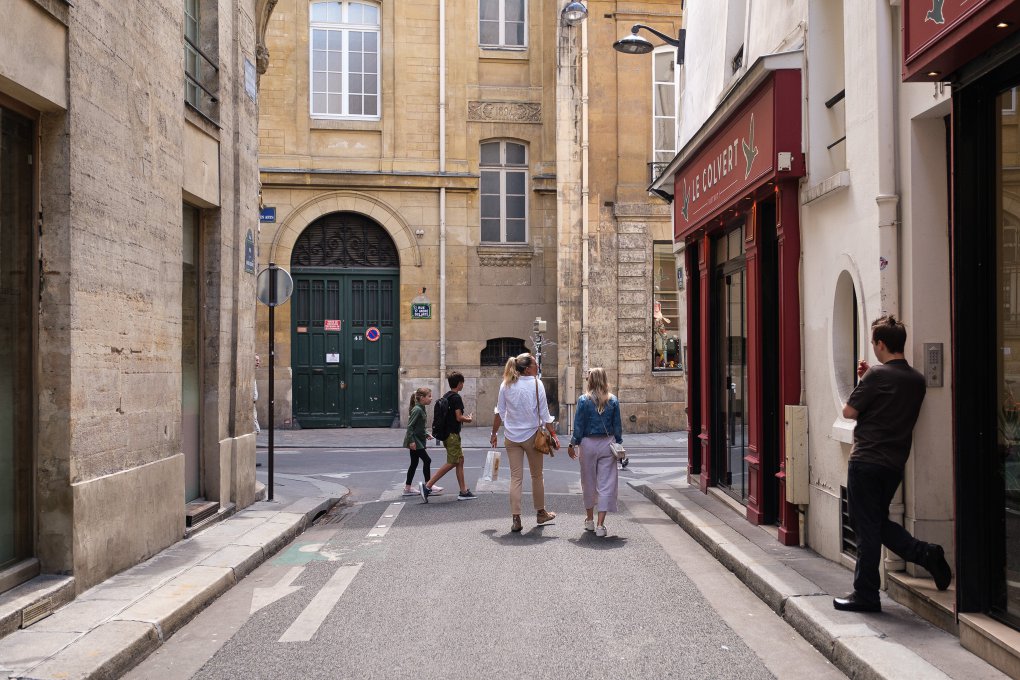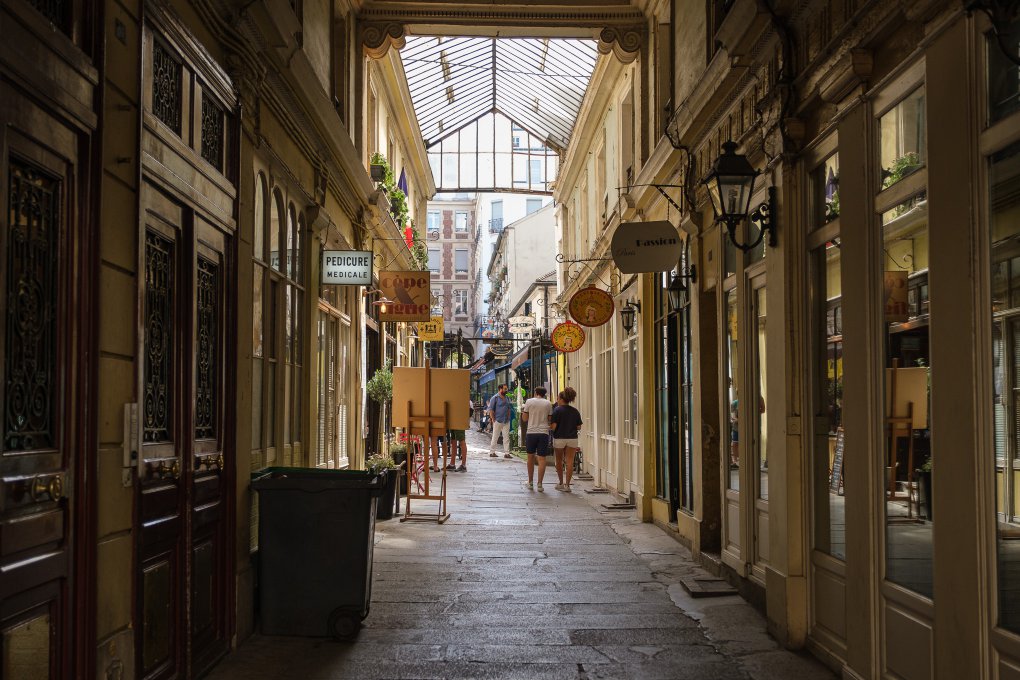 Made a quick stop at Church of Saint-Sulpice.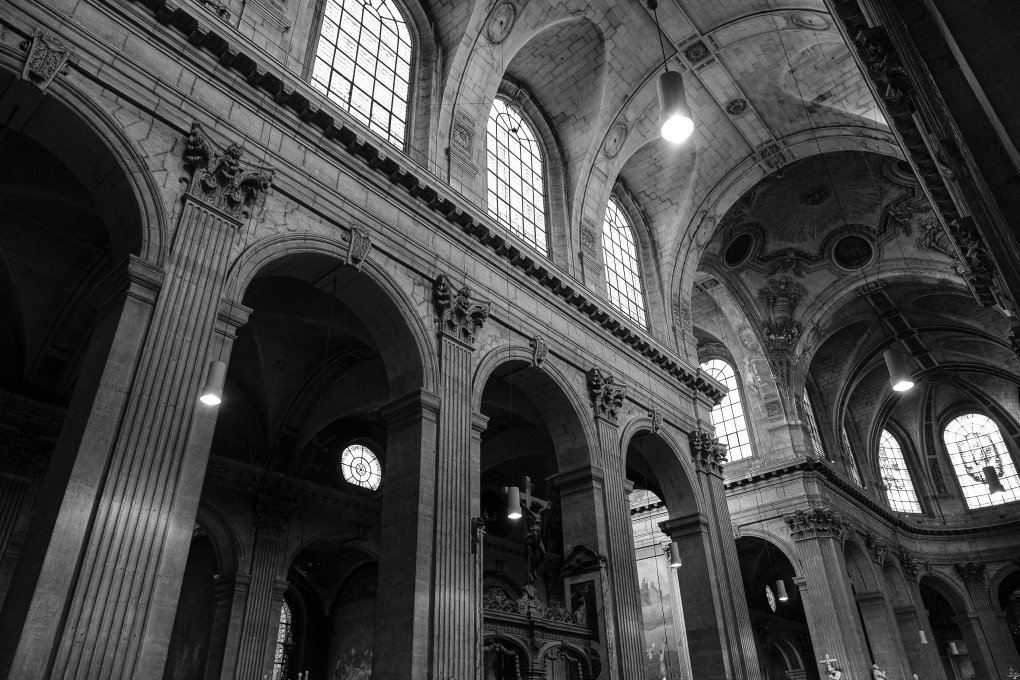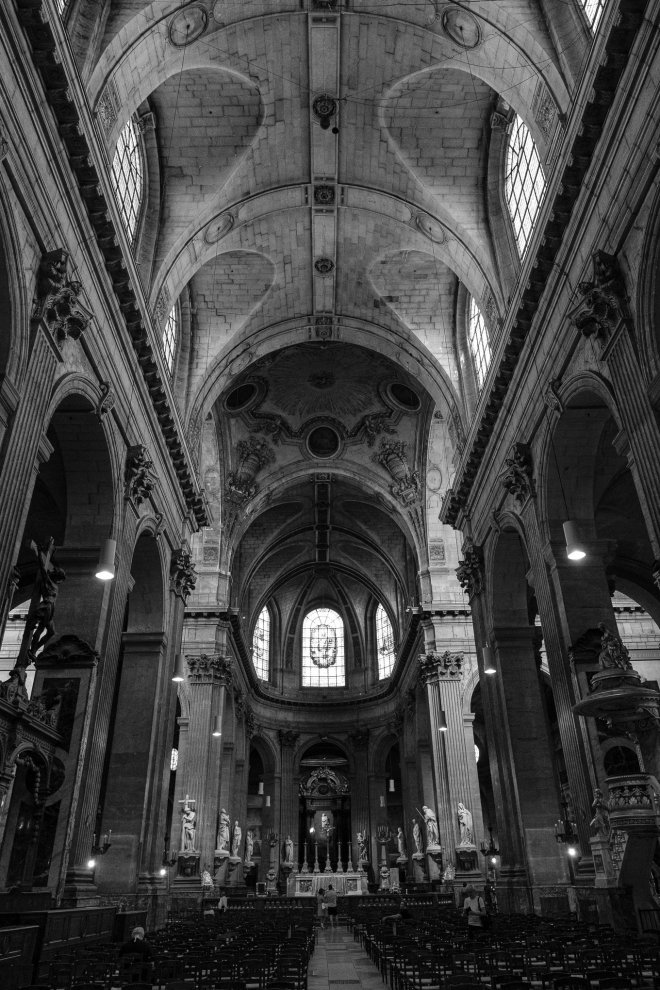 Got to beautiful Luxembourg Gardens, where we said goodbye to our friend and spent some time walking around and admiring the beautiful landscaping of the garden.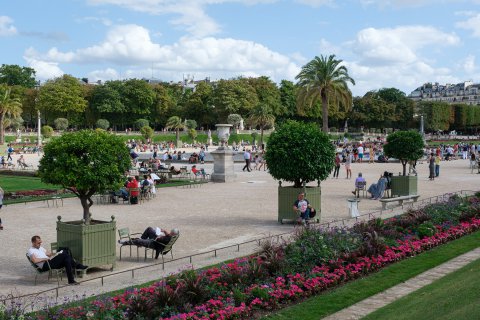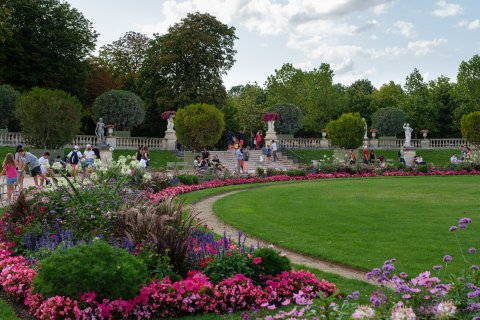 I wanted to rent a toy sailboat for a pond, but the one with an American flag was taken and the one with Ukrainian was broken 🤷‍♂️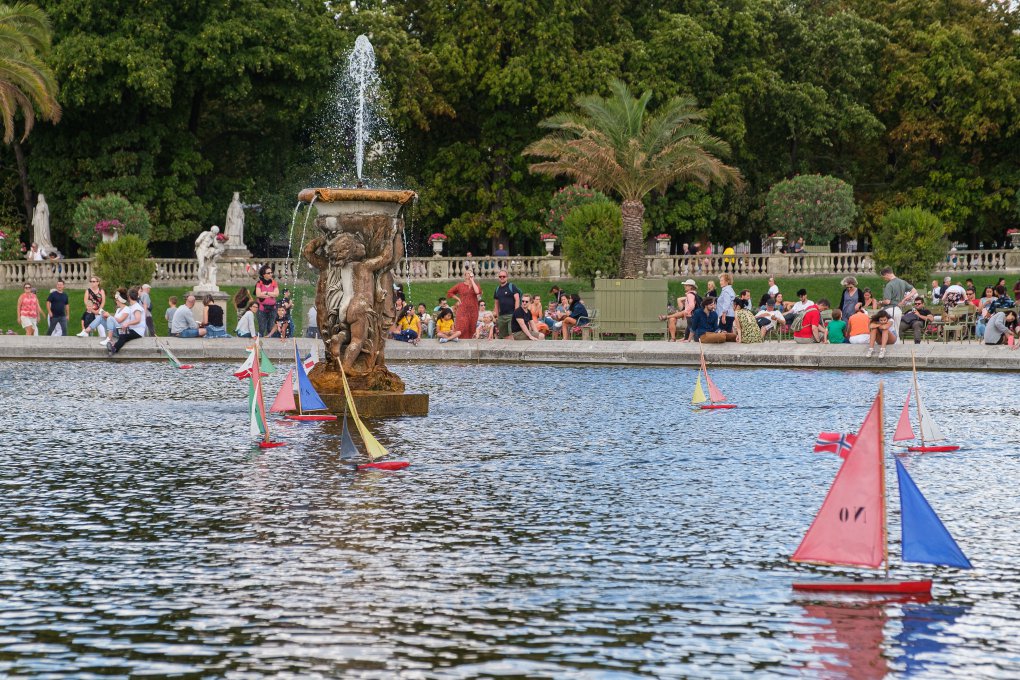 From there we walked to our apartment, but made a slight detour and stopped to see Centre Pompidou. It was a little late to get inside and see its collection, but seeing the building itself was one of the strongest architectural experiences I've ever had. Curbed describes how it's designed:
The building's most famous structural feature is its "inside-out" construction, which emphasizes the idea of the cultural center as a machine and places the mechanical systems on the exterior, to keep the inside unencumbered and open. But the multi-colored pipes and structures aren't merely colored for show. Each shade corresponds to a certain function: ventilation components were painted white; stairs and elevators are grey; smaller ventilation pieces were blue; plumbing and fire control are green; electrical systems are yellow and orange; and elevator motor room were colored red.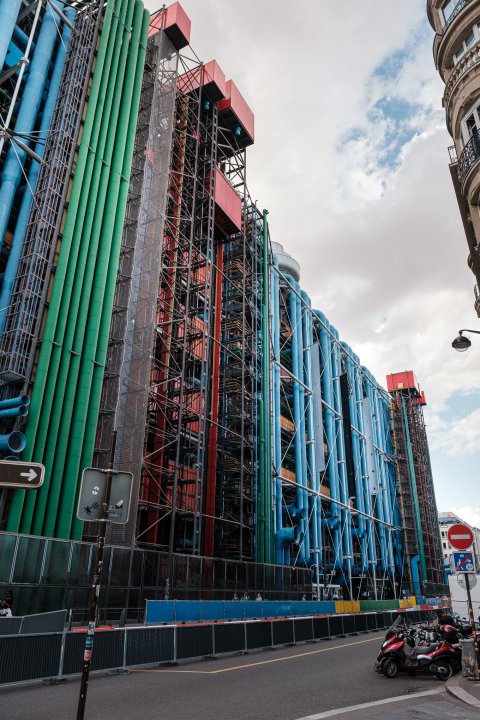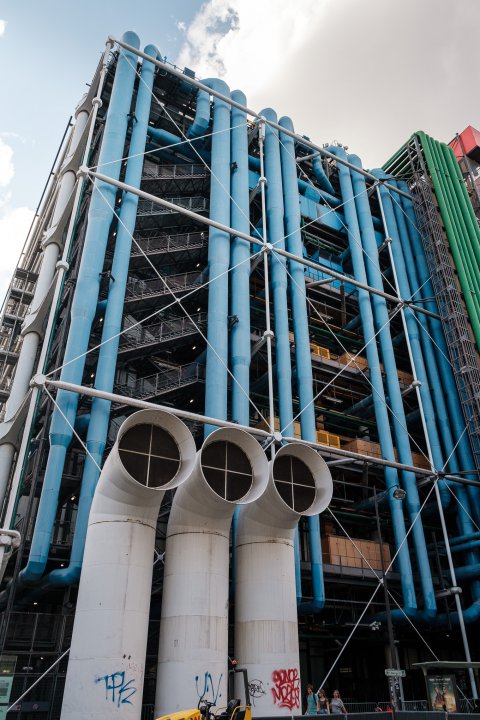 It's somewhat ironical that while art was one of the reasons why we went to Paris in the first place we didn't make it to any of the museums. I was mostly looking forward to Musée d'Orsay but also hoped to find time for Louvre and Centre Pompidou. Hopefully one day we'll be back in a low season and get a chance to catch up on the art museums.