Zion National Park
The last national park of our trip was Zion. Around 9 am we entered it through East Entrance and were greeted by a beautiful view of a Checkerboard Mesa.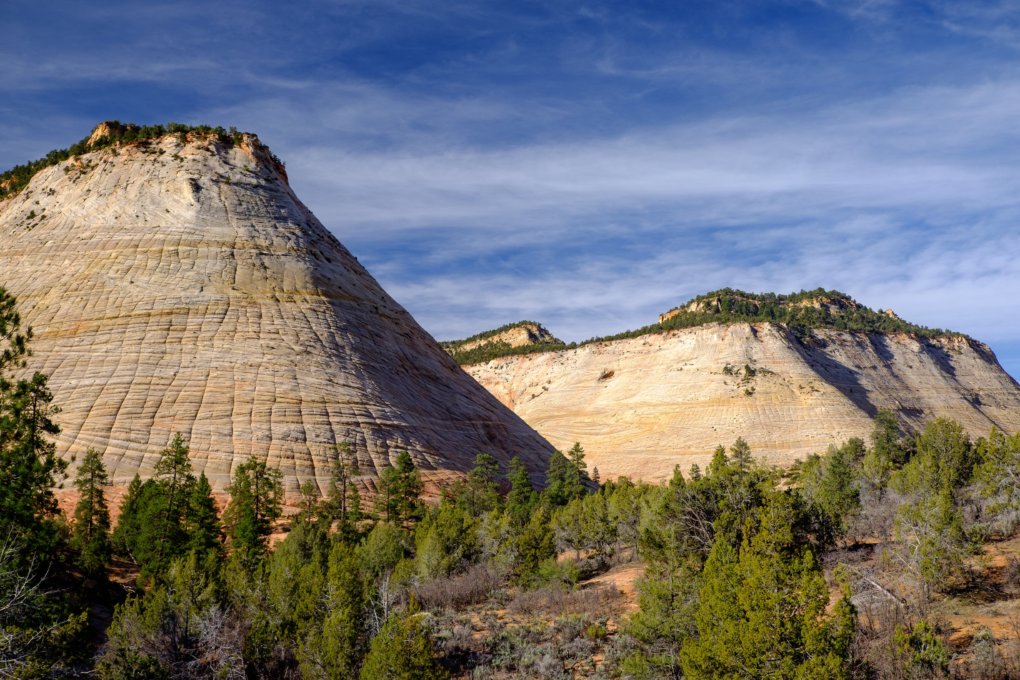 Next, we passed through two tunnels and went to a parking lot near the Visitor Center to drop off our car. No cars are allowed in the park but there is a free shuttle going on Zion Canyon Scenic Drive with multiple stops to hop on and off.
Our initial plan was to hike Angel's Landing till Scout's Lookout, but then we found out there are horseback rides and our daughter convinced us to change a plan. We got off the shuttle at Zion Lodge, stopped by to make a reservation for a ride later that day, and went on an Emerald Pools trails. It's an easy 2 miles long trail with beautiful waterfalls and overlooks.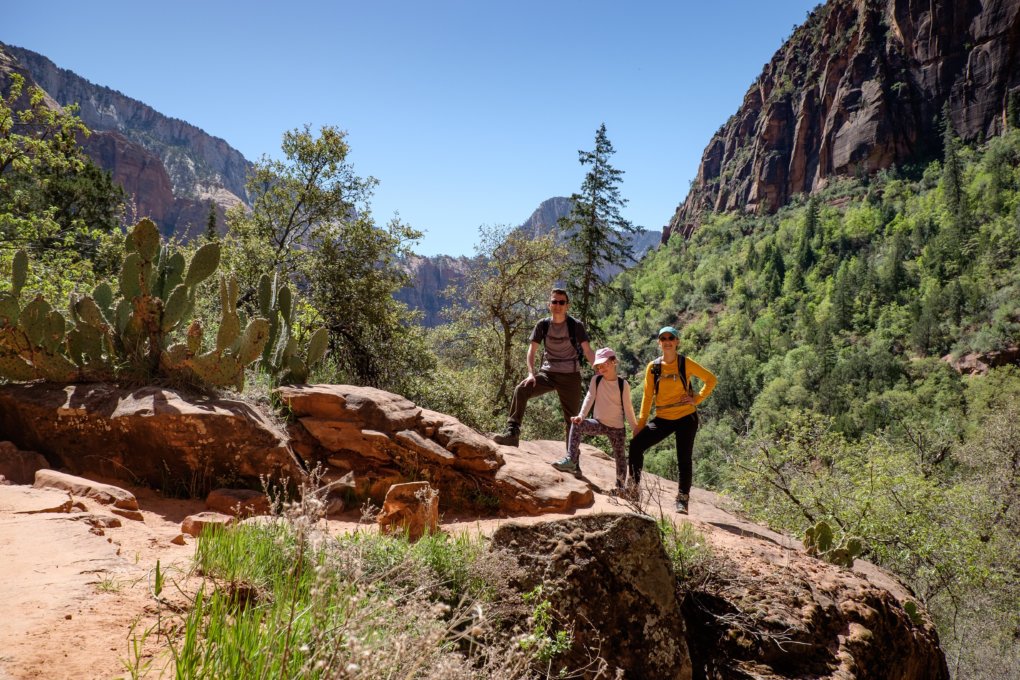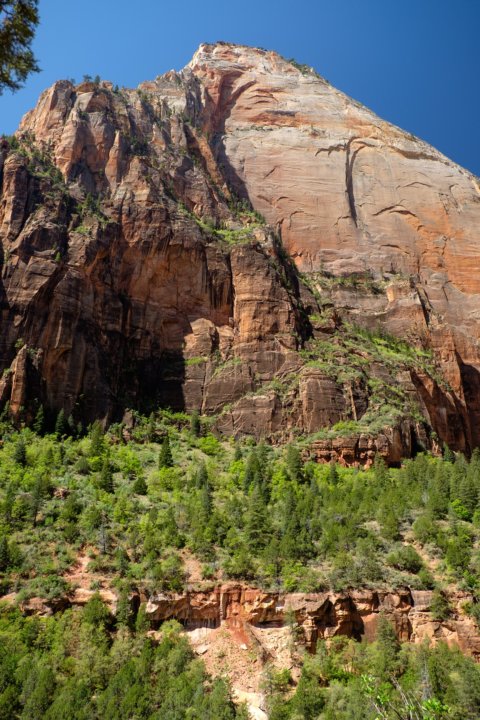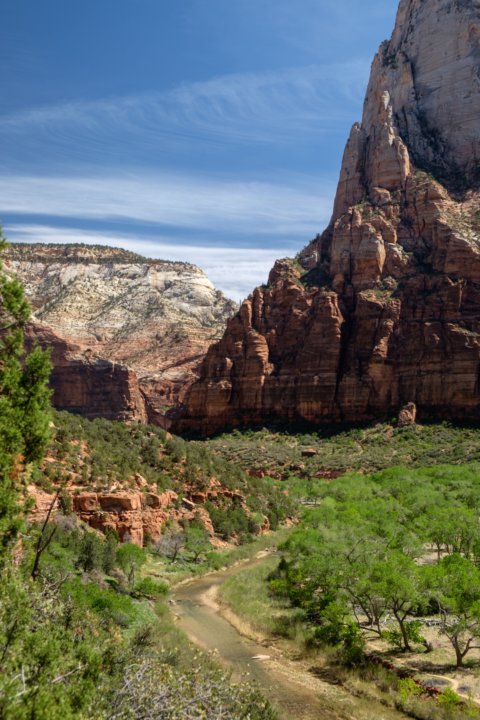 We got off the trail at The Grotto stop and as we had some spare time before the ride went to see the Weeping Rock. It takes only 10 minutes to hike to it and the place itself is pretty cool (although packed with visitors).

After returning to Zion Lodge and having a lunch we were ready for our 1-hour horseback ride. It begins with crossing the Virgin River and then following it for about a mile to the Court of the Patriarchs, then returning back. We were riding for the first time and were a little worried about our 8-year-old, but like a true champion she followed a ranger and enjoyed every minute of it. (My gluteus and hamstrings weren't ready for this, so driving for 5 hours next day was "fun".)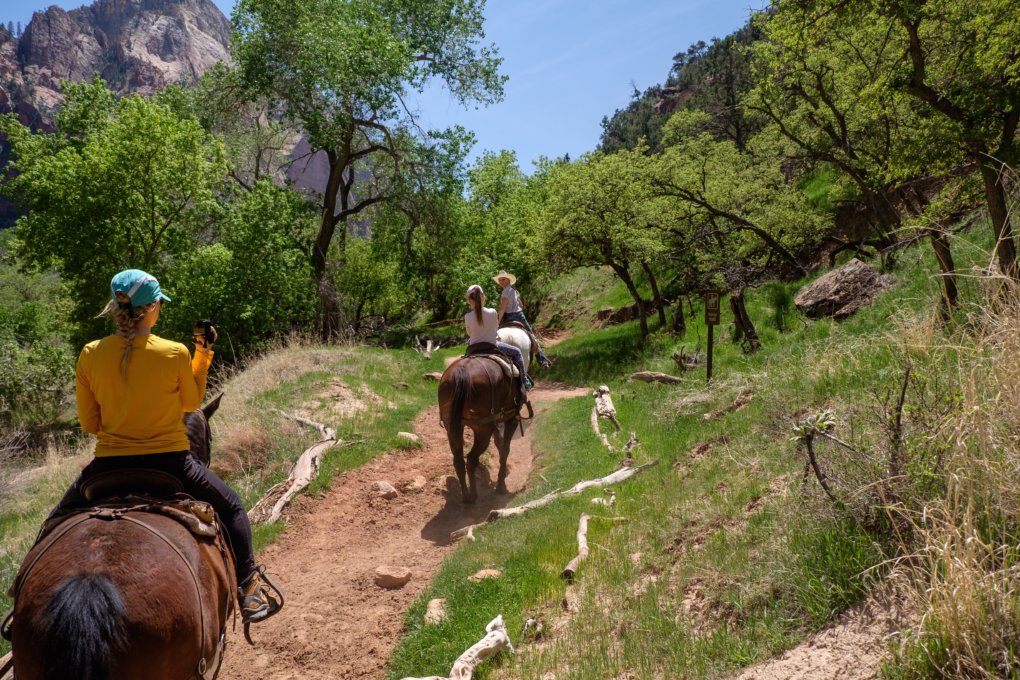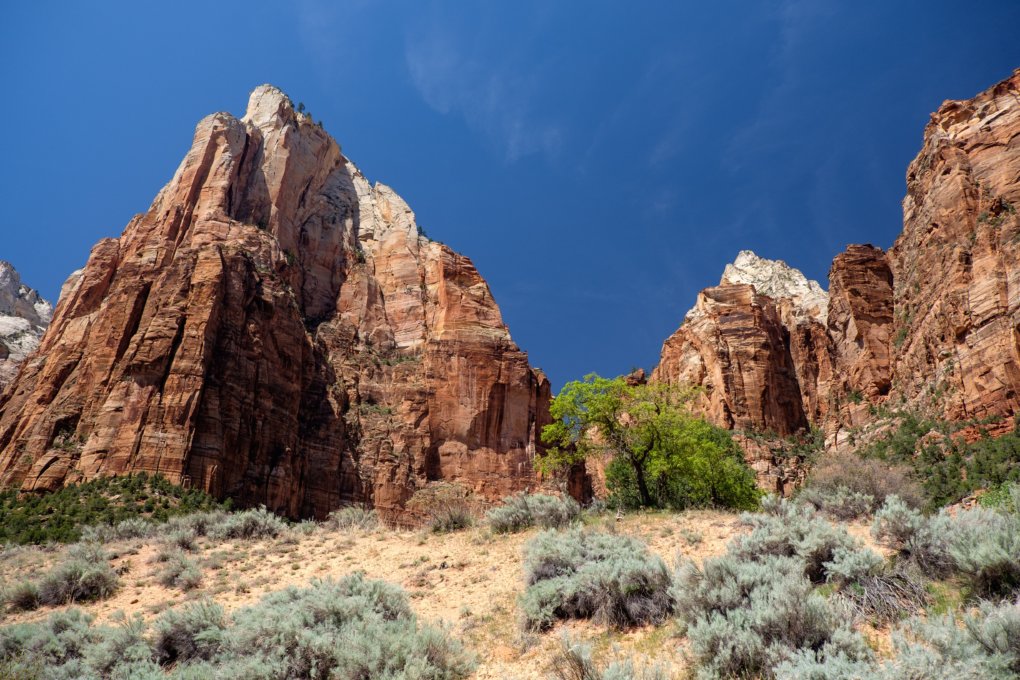 It was 3 pm on a really hot day, so after getting back we took a short break sitting on rocks of the Virgin River.
Our final stop was The Temple of Sinawava, which is another park's hallmark. A popular hike to the Narrows starts there, but we didn't plan to do it this time. We walked along the river, took photos, and went back on a shuttle to the parking lot. Springdale is right next to the Visitor Center, so we went to Bit & Spur Restaurant for dinner and enjoyed some good Mexican & Southwestern food.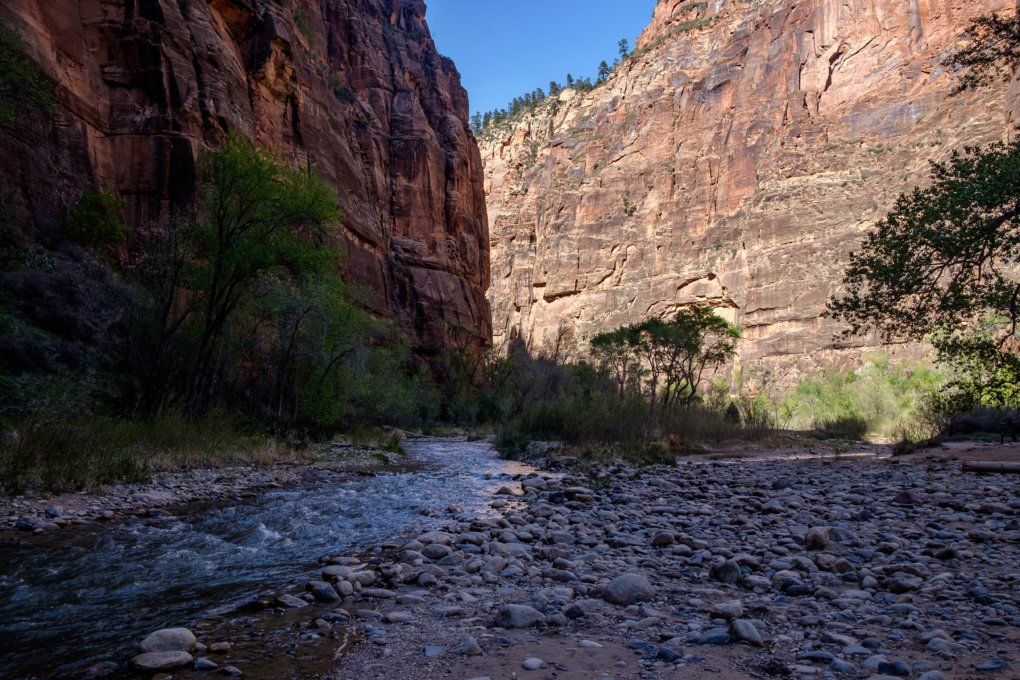 As we were driving back home we spotted a large rock with a dozen bighorn sheep. That's not something you can regularly see outside of the zoo, so we spent a good time admiring their beauty.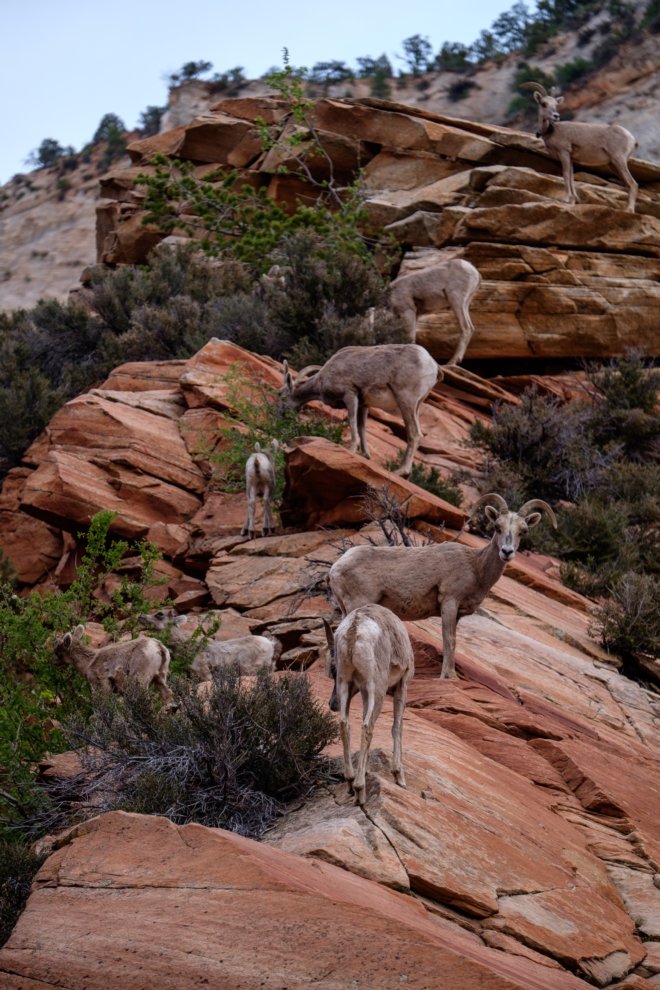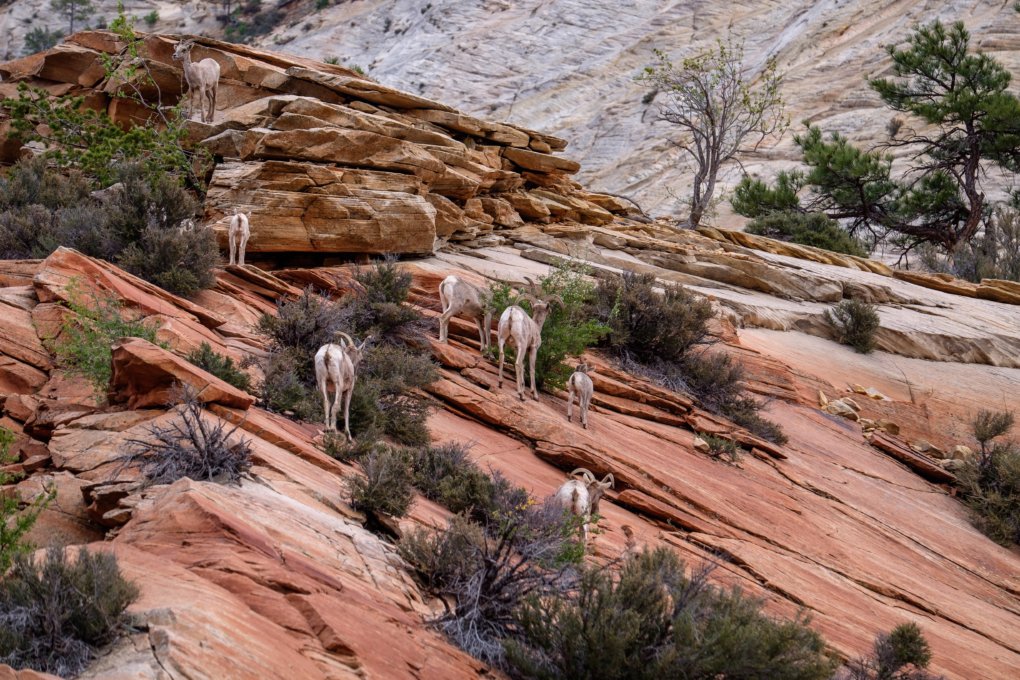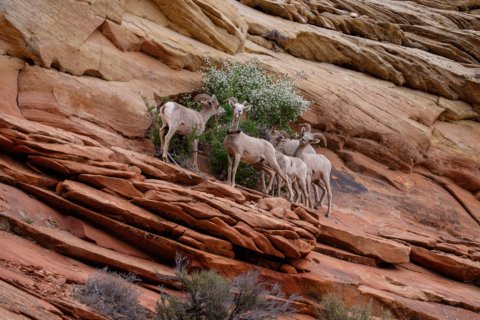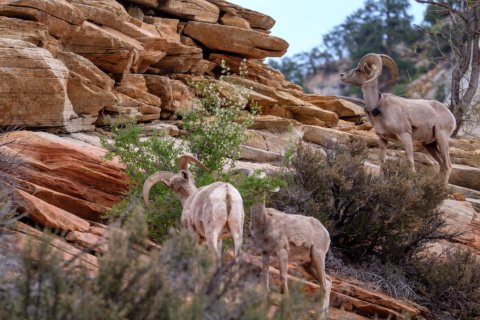 Just as we got back into a car and drove for another 10 minutes we saw a herd of bison. We noticed them far on a horizon that morning but now they were right next to the road. They are not exactly a "wildlife", but it still was a spectacular view.